"Sara, I am traveling next week. How do I stay on Keto and not get off track?"
I LOVE this question!!! Why? Because Keto actually makes traveling easier! Let me tell you a little story…
I was introduced to exogenous ketones the week before I was suppose to go to Cabo for a 40th birthday party weekend. Mexico, sun, adult party weekend, chips and margaritas… Not really a Keto lifestyle right?
Then something crazy happened.
I went into the weekend thinking, "Just have fun and don't worry about staying on track. Take your Keto and see how it goes." Mind you, I was only one week into this whole Keto lifestyle. (And this was before the word "KETO" was mainstream.)
Imagine my shock when, because of the Keto supplement, my cravings for alcohol and carbs were completely gone, and I felt amazing energy as the weekend went along. I was with a group that wasn't shy about drinking and eating whatever they wanted and didn't hold back. It didn't make me want to give in, and I was happy to just enjoy the company and relaxation.
The true testimony to traveling on Keto came on the travel day home.
We had started our 45 minute drive to the airport and got stuck in 2.5 hours traffic. Not only did we almost not make our flights, but during the drive where we were bumper to bumper and feeling trapped, I could see everyone starting to get "hangry" and anxious from low blood sugar. No one had anything to eat or drink. Mind you this was the "morning after" a long night for most in my group…
But I had had my Keto and was feeling stable and totally satisfied. Also, as most of the group was getting nervous about getting home to their kids, I felt calm and grounded when typically I would have been losing it. I was shocked that I was feeling so good on only a Keto Shake and how I wasn't worried about when I was going to eat next.
That is the FREEDOM that Keto gives you.
My Top 10 Keto Travel Tips:
1. Take your Accelerated Keto with you in your bag. Take it in the morning with your coffee or tea.  With this, your blood sugar will be stabilized and you won't be dependent on the limited available food on the plane or the restaurants around you. When you find food that you are excited to eat and that is low carb and appropriate , then you can truly enjoy a great meal but you won't be forced to grab a poor choice before then.
2. Take 1-2 packets of Ola Loa multivitamin and electrolyte powder in your bag to add to water and drink while traveling. This will help with jet lag and rehydration while traveling. You will feel refreshed and not as tired as you usually do on a travel day.
3. Put some Accelerated Ancient Salt in a baggy in your backpack or purse to carry with you. Just putting a pinch of this on your tongue will help suppress your appetite and any nausea you might experience (if you tend to get travel sick). It gives you a boost of energy, too! I love adding it to my meals when I do end up eating at restaurants.
4. Take 6 drops of Acceleradine Ionic Iodine in water 3 times a day. Increase dosage to 20 drops three times a day in water to boost immunity, metabolism, and energy.  Also, this will help detox you from the radiation of the travel and negate any jet lag
5. Take 12 drops of NucNoMore after going through security, and 12 drops at the end of the flight. This will detox you from radiation and EMF's.
6. Protect your immune system with Accelerated Scalar Silver. You can put it in a Dropper bottle or spray it on your tray table and on your hands to disinfect.  Also, you should put in your mouth to boost your immune system while being expose to recirculating air, and strangers that are sick across the isle. There is nothing worse than getting sick on a trip!  The Accelerated Scalar Silver is the only silver enhanced with Scalar frequencies to further heal the body and devitalized any viruses or bacteria.
7. Take 1-3 tsp of Accelerated Detox Powder at night to soak up alcohol or food-born toxins you may have encountered.  This also helps with regularity, bloat and any intestinal issues that you may be experiencing.
8. Take 1 Tsp 3 times a day of ION* Gut Health (formerly RESTORE) to help your gut when eating foods you that you aren't used to. It protects your GUT!
9. My favorite snacks to carry with me are Carnivore Crisps and Pili Nuts. Pili nuts taste like butter and salt and they satisfy you for hours with only 1 carb per serving!  And the Carnivore Crisps are crispy jerky made from grass fed meats and sea salt.  Both are family favorites!
10. Ordering KETO at restaurants really can be EASY!!!! Restaurants love fatty meats and fatty sauces. All you need to do is order the meat or fish with double veggies! Just don't eat the bread or the starches.
More on Travel & Keto:
Here's How One AHP Client Does it…
"I intermittent fast, stay hydrated, take my supplements while making the best food choices I can!

On one vacation, we did family happy hour every night, and I always volunteered to bring the apps so I could make sure there were lots of almonds, cheese, olives, salami, green veggies and ranch dip."

— Erin from California
Do you have your own personal Keto Travel Style and Tips?
I want to hear from you! Comment below and share how you do Keto & Travel!
Want to learn more about the Power of Ketosis? Watch these Podcasts: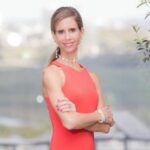 Sara Banta is a Stanford University Graduate with a Degree in Economics and Psychology, and a certified Natural Supplement Expert & Graduate of the Institute for Integrative Nutrition. Sara is the Founder of Accelerated Health Products and host of the health & wellness podcast, Accelerated Health Radio.