Sara discusses the Magic of Surrender with Kute Blackson, a beloved inspirational speaker and author.
Topics Discussed in this Episode:
What it means to Surrender
The power in "letting go"
How to manifest your dreams



Kute Blackson is a beloved inspirational speaker and transformational teacher. He is author of the national bestselling book You.Are.The.One. and The Magic of Surrender. He is widely considered the next generation leader in the field of personal development and has been featured on Larry King Now, Fox and Friends, Dr. Drew, as well, Inc magazine calls him 'The Mindfulness Guru Billionaires Go To For Advice'.

Kute Blackson offers a fresh, bold look at spiritual awareness for a whole new generation. Born in Ghana, West Africa, Kute's multi-cultural upbringing as the child of a Japanese mother and a Ghanaian father has spanned four different continents. His unique lineage lay the foundation for his approach to breaking down barriers and unlocking an individual's true gifts and greatness.

For over 20 years, Kute Blackson has been inspiring audiences around the world. From the first time he spoke in front of 3000 people at age 8, to speaking in over 300 venues by age 18, to helping organizations develop authentic leadership and achieve extraordinary performance over the last decade. His electrifying presentations, not only offer real world practical ideas and soul stirring wisdom, but also ignite the heart and inspire courageous action.

He recently received the 2019 Walden Award in the New Thought Wisdom category that Unity Organization honors once a year to recognize socially conscious leaders who are making the world a better place. One of the previous year's winners in this same category was Oprah Winfrey.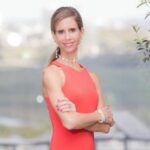 Sara Banta is a Stanford University Graduate with a Degree in Economics and Psychology, and a certified Natural Supplement Expert & Graduate of the Institute for Integrative Nutrition. Sara is the Founder of Accelerated Health Products and host of the health & wellness podcast, Accelerated Health Radio.