Founder of Radiant Health, Kate Vazquez discusses Estrogen Dominance including how to Reverse Estrogen Dominance and balance hormones.
Topics Discussed in this Episode:
What is Estrogen Dominance
The symptoms of Estrogen Dominance
How to Reverse Estrogen Dominance and balance hormones
Kate Vazquez is a Functional Medicine Physician Assistant, founder of Radiant Health, and is an Award Winning Author of the bestseller, Estrogen Is A B*tch. She helps ambitious women naturally balance their hormones, so they never notice their period again, perform their best every day, and become the confident leader, wife, and mother they aspire to be.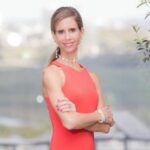 Sara Banta is a Stanford University Graduate with a Degree in Economics and Psychology, and a certified Natural Supplement Expert & Graduate of the Institute for Integrative Nutrition. Sara is the Founder of Accelerated Health Products and host of the health & wellness podcast, Accelerated Health Radio.