Topics discussed in this episode:
How to fix digestion and eliminate gas, bloating, heartburn and other issues
How digestion optimization transforms muscle growth and metabolism
The truth about enzymes and probiotics, and why are they the missing food element
The future of biohacking, health, aesthetics and performance
The gut – brain connection
What Wade learned as a vegetarian that is applicable to all diet styles
3-Time Canadian national All Natural Bodybuilding Champion who competed as a vegetarian, former Mr. Universe Competitor, host of The Awesome Health podcast, Wade Lightheart is one of the world's premier authorities on Natural Nutrition and Training Methods. Having majored in Sports Science at the University of New Brunswick, he's been in the health industry for over 25 years, coached thousands of clients, and is sought out by athletes and high-performance oriented individuals worldwide for his advice on how to optimize their health and fitness levels.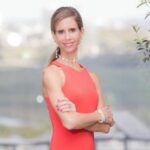 Sara Banta is a Stanford University Graduate with a Degree in Economics and Psychology, and a certified Natural Supplement Expert & Graduate of the Institute for Integrative Nutrition. Sara is the Founder of Accelerated Health Products and host of the health & wellness podcast, Accelerated Health Radio.