Sadie Lincoln is the co-founder and CEO of barre3, a fitness company focused on teaching people to be balanced in body and empowered from within. Starting in 2008 with the flagship studio in Portland, Oregon, barre3 has grown to include more than 140 franchise studios powered by female entrepreneurs, plus an online-workout streaming-subscriber base in 98+ countries. What started as a workout has blossomed into a full-blown movement made up of millions of people focused on body positivity, being empowered, and redefining what success in fitness means.
Sadie is on Inc.'s Female Founders 100 list, has been featured on NPR's How I Built This, and speaks regularly on the topics of mindful leadership, the power of body wisdom, and the movement to redefine what success in fitness means.
Beyond running her company and being a global spokesperson, Sadie still enjoys teaching barre3 classes to many of her founding clients in her hometown of Portland, Oregon.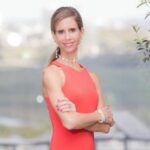 Sara Banta is a Stanford University Graduate with a Degree in Economics and Psychology, and a certified Natural Supplement Expert & Graduate of the Institute for Integrative Nutrition. Sara is the Founder of Accelerated Health Products and host of the health & wellness podcast, Accelerated Health Radio.