I have known Erin for 30, years since Jr. High School. She has always been one of the most talented, creative individuals I know in addition to being an amazing mom of three. It just warms my heart to see her so full of life and energy now! Her story gives me the chills, and I hope it provides some inspiration to you.
Sara Banta
Erin's Story In Her Own Words…
"I incorporated the Detox Bundle into my weight loss journey about 6 months after starting a Ketogenic diet. I have been using the [Accelerated Health] products religiously ever since (about a year) and absolutely love them!
Therapeutic ketones helped me take my diet and health to the next level. I was able to start Intermittent fasting without feeling hungry or experiencing strong cravings. I continue to take [Keto Supplement] daily because it helps with my Energy levels and Mental Clarity. I love starting my day with this drink knowing I am giving my ketosis levels a kickstart and will be better able to maintain them with diet the rest of the day.
I mix Ola Loa with my ketones. Making sure my vitamins, minerals and electrolytes are maintained at strong, healthy levels is a big factor in what has allowed me to be so successful with a ketogenic lifestyle, in my opinion. I have never experienced 'Keto flu' and have always had great energy and focus.
I gave up gluten as part of my diet change, but I still felt Bloated and sluggish a lot. I also suffered from cystic Acne almost my entire adult life. Once incorporating the prebiotics[Accelerated Leaky Gut Bundle, Ion Gut Health] and probiotics in the Detox Bundle, all those problems went away! Healing my gut has helped me Sleep better as well as eradicate much of the Anxiety and Depression I would regularly feel when eating a sugar and wheat heavy diet. I now use the Ion Gut Health, and I have noticed I am able to eat a small amount of gluten without the horrible side effects. I still choose to steer clear of it most of the time however! But it's nice knowing if I accidentally ingest it (in a salad dressing at a restaurant or in an appetizer at a party), I won't spend the rest of the evening in pain."
"Finally, Accelerated Scalar SILVER. I can't say enough about the benefits of this product. Since starting taking it daily, I have not been sick. Not even a head cold. That's 18 months of health! I use it for everything…Cuts and Sunburns as well as a topical toner on my face after I workout. If my husband or kids are sick, it's the first thing I recommend. They make fun of me because my answer to every ailment is, 'Put Silver on it,' or 'Drink Silver.'
I have lost almost 100 pounds since beginning my weight loss journey. I met my goal weight a full year ago and have been able to maintain it by continuing to follow a ketogenic way of eating and using the Detox Bundle! Now it's about having the health and energy to life the long, full life I still have ahead of me, and feeling GREAT along the way."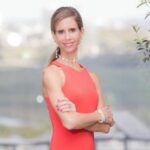 Sara Banta is a Stanford University Graduate with a Degree in Economics and Psychology, and a certified Natural Supplement Expert & Graduate of the Institute for Integrative Nutrition. Sara is the Founder of Accelerated Health Products and host of the health & wellness podcast, Accelerated Health Radio.