As many of you know, I interviewed my son Jackson who is in high school and has had been forced to eat clean because of health issues and fighting Leukemia at the age of 9. Now he is a devoted athlete who is working on gaining muscle quickly and reaching his peak athletic performance through a clean Keto Diet. So, in other words, he has many motivating factors to keep him on track.
But what about children in elementary school who "just want to be kids"? Well, my daughter Kiana is in 6th grade and is 12-years-old. She plays volleyball and swims, but nothing at an olympic level. She mostly eats a low carb, high protein and healthy fat diet. She isn't as strict as Jackson, but is pretty clean with her eating 90 percent of the time. So I wanted to get her perspective. I told her to be honest and not worry about what I thought she should say.
Watch the video and read the full transcript below. Look for the bonus info on Kiana's favorite Keto Snacks. Enjoy!
Kiana's Interview on Kids and the Keto Diet
What do you notice throughout the day when you eat a sugary breakfast?
Whenever I go to friend's houses to sleep over, a lot of the times they have only waffles or pancakes for breakfast and nothing else. Then, when I get home, I either have a headache or my stomach hurts or I feel like having a meltdown since my body isn't used to having a lot of sugar and nothing else for breakfast.
What supplements do you take easily without being reminded? And, when you name them, what do you feel if anything? Do you notice anything different when you forget to take that supplement for a week or so?
The main supplements that I take are silver, Acceleradine® (Iodine), Ion Gut Health, and Ola Loa. I take my silver 3-4 times a day and when I don't take it I feel like I can get sick easily and don't feel as good as I can. I also take Ola Loa two times each day, and without it, I feel like I have no energy and I get headaches very easily. My Ion Gut Health helps my stomach whenever it hurts and Acceleradine also make me feel good with energy.
Do you wish you were given more chips and snack foods that most kids eat at lunch everyday?
Every day at school when all of my friends have cookies, chips, and sweets for lunch my mind really wants it, but I know that my body doesn't because I know that it won't make me feel good later on.
What do you like to eat before volleyball or swim practice and why?
Before I go to volleyball practice or swim, I like to eat almonds, nuts, or Carnivore Crisps to give me energy.
What do you for sure not want to eat before practice?
Before practice, I know that if I eat anything sugary (ex. sugary fruits, cookies, chips, etc.) I won't perform at my best and feel good while doing it.
What do you make sure you do the morning of a big test at school or a big race/game?
Whenever I have a volleyball tournament, big test or a big event, I like to have my organic turkey sausage, Keto, nuts, and Ola Loa and those all together make me perform my best and give me energy to do that, and feel great.
When you do eat something like birthday cake, does it make you want to eat 2 pieces or less than what you are given? In other words, because you don't have it often, do you want more of it or is it so sweet you want less than the average person?
Whenever I am at birthday parties, there is most of the time pizza and cake or something along the lines of that. When I get served it, I really want to just eat the whole cake, but I only have about half to one piece of cake. When most kids go back for seconds I know that if I had another piece, It would not make me feel good and my blood sugar would get too high then drop down really low.
Do your friends ever make comments or make fun of what you are eating?
No. That is a weird question. Why would they make fun of me?
If there was one thing that you want to tell other kids out there what would it be?
One thing that I would tell any other kid out there it would be that eating the right foods that are on the Keto Diet will always make you feel better, happier, and will make you feel amazing.
Kiana's Favorite Keto Snacks
Jicama Avocado Snack
chopped jicama
chopped avocado
a few macadamia nuts
Galeo's miso dressing
Turkey "Tacos"
Organic turkey slices as the "taco" shell topped with:
avocado
cheese
chopped cucumber or jicama (optional)
Cucumber Avocado Smoothie
1 organic cucumber
1 avocado
1/2 lemon
ice
water
pepper
stevia (optional)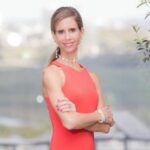 Sara Banta is a Stanford University Graduate with a Degree in Economics and Psychology, and a certified Natural Supplement Expert & Graduate of the Institute for Integrative Nutrition. Sara is the Founder of Accelerated Health Products and host of the health & wellness podcast, Accelerated Health Radio.