"These products have completely turned my health around…"
"I am writing this review to honestly and objectively give my opinion on the products at Accelerated Health, their customer service, and Sara, the owner.
15 years ago I was badly injured in a series of toxic chemical exposures in an industrial setting, along with the additional injuries which I sustained at the same time. I was given 3 years to live in 2007. Because I already had a healthy, organic diet, with LOTS of cilantro use, which removes heavy metals and purifies the blood, I lasted this long, though I was doing badly, even with all that.
2-3 months ago I happened to watch an amazing video of Sara and Jason Goodman talking about the benefits of Sara's products. On a lark, I contacted Sara and gave her a brief overview of my issues, and though she's not a doctor, and couldn't give me medical advice, she said that she felt her products could help me regain my health, so I gave it a shot. I am SO GLAD I did, because I'm at a point health-wise, now, where I'm looking towards the future, and making plans. That wasn't the case 2 months ago.
I cannot predict the outcomes for other folks, but for me, these products have completely turned my health around!! Today, I am resupplying my cupboard with these amazing products, because using them has turned my life around in such an amazing way, I can hardly believe it!!
Thank you, Sara: you are a blessing in my life! God bless you and yours!!"
— Jay J.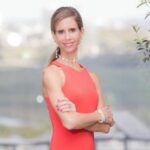 Sara Banta is a Stanford University Graduate with a Degree in Economics and Psychology, and a certified Natural Supplement Expert & Graduate of the Institute for Integrative Nutrition. Sara is the Founder of Accelerated Health Products and host of the health & wellness podcast, Accelerated Health Radio.