Lisa came to me as a client through a referral of a referral, finding Accelerated Health Products to be an integral part of her journey, and it is an amazing journey to share!
She was first diagnosed with Celiac Disease in 2015. A year after that she learned she also had something called CVID (an immune system deficiency affecting killer T cells that requires monthly intravenous therapy for life). Like many Celiac's, she struggled with the gluten free diet and weight gain became an issue a year after diagnosis. While she was told this was a good sign of healing, it was a downside for her self esteem.
Depression and social isolation soon set in. She later learned about the Keto Diet for weight loss and improved health. She researched it and soon realized it was NOT a fad diet and has actually been around since the 1920's, originally used to treat epilepsy in small children. At first she groaned at the thought of learning another new diet but upon further investigation, she realized it was an easy transition, since it's not that far off from a gluten free diet. Not only has she lost weight, her overall health has improved and she no longer requires monthly IVIG treatments for life.
Lisa's goal is to collaborate, educate and inspire others towards a "Gluten Free Keto Lifestyle" in an effort to improve their overall health and gain a more enjoyable life back, without the added weight – that's just a bonus!
Connect with Lisa: You can also find Lisa on Instagram @gf_ketogirl where she shares her GF Keto recipes, new product finds, helpful tips & tricks and educational information. Listen to her bi-weekly podcasts where she co-hosts with Sue Jennett on the Gluten Free Weigh In.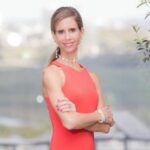 Sara Banta is a Stanford University Graduate with a Degree in Economics and Psychology, and a certified Natural Supplement Expert & Graduate of the Institute for Integrative Nutrition. Sara is the Founder of Accelerated Health Products and host of the health & wellness podcast, Accelerated Health Radio.