With recent events, the tragedy in Las Vegas on the heels of some unsettling and destructive natural disasters, many of us are feeling anxious and "on edge" yet perhaps paralyzed to do anything. I describe it as feeling "needles" wanting to come out of my skin and not being able to "settle back down". As a busy mom, there's always so much to do, yet I feel immobilized. I think it's pretty safe to say we are all suffering in some way or another…
Depending on if you were directly effected by any of the catastrophic events, or have family or friends that were, or if you are just watching all of it unfold on TV — you probably are feeling a level of unease. Our bodies are in a "Fight or Flight" state, as our adrenals are in overdrive and doing their job to help get us through the emergency. That very adrenal response is what allowed so many people act in heroic ways, doing "super human" things that they would never have believed they were capable of. The down-side is that as we begin to come out of the "fight or flight" state, our adrenals will suffer unless they have sufficient time and the proper supplemental care to be restored. And, those who already suffer from Anxiety or Depression could be experiencing a new level of their condition.
As I write this, my heart pours out to all of you who are effected personally, as I am watching close ones to me struggle with the aftermath of each devastating event. What could I do to help? I can offer natural solutions to ease the Stress, Anxiety and Depression while restoring your Adrenals and your Energy. In addition my go-to list of natural supplements (below), I highly recommend focusing on sleep, nutrition, meditation, and possible Post Traumatic Stress therapy or counseling.
Natural Solutions to Help with Depression, Anxiety & Stress:
Provides support for coping with stress & fatigue
Helps fight daily stress and supports a healthy nervous system
Enhances physical and mental ability to fight stress – A natural strong adaptogenic in action
Supports calmness and relaxation
Helps calm and alleviate stress-associated emotions, e.g. anxiety, depression, anger
Relieves insomnia, restlessness, dizziness, spontaneous sweating, constipation due to stress, dryness of the mouth, poor memory
Addresses burn-out, especially when accompanied by aching, pain or digestive disturbances
Restores energy, sense of well-being, and mental acuity
Helps alleviate non-specific dry coughing, dyspepsia, and leukorrhea
Supports the adrenal, pituitary and thyroid glands
Athletes may use it with yin tonics in order to replenish their systems
An adaptogenic herb well known for being a health tonic and restorative agent that:
Supports body and mind in combating daily life stress
Reduces anxiety and stress levels
Increases vitality, stamina and energy
Improves both physical and mental performance
Helps to support relaxation of mind
Helps to promote restful sleep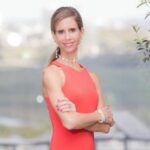 Sara Banta is a Stanford University Graduate with a Degree in Economics and Psychology, and a certified Natural Supplement Expert & Graduate of the Institute for Integrative Nutrition. Sara is the Founder of Accelerated Health Products and host of the health & wellness podcast, Accelerated Health Radio.