Dr. Alex Perry is the host of The Natural Fertility and Women's Health Show, where he discusses natural fertility, pregnancy and women's health. Dr. Perry is a Chinese medicine doctor, founder and director of The Perry Centre. For more than a decade he has helped women and their partners start and grow their families.
I had the pleasure of sitting down with him on the show to discuss my own experience with fertility and my three very different experiences with each one of my children. I share what I have found to work for my clients who have struggled with fertility and how I've helped them find success through achieving hormonal balance. Dr. Alex Perry and I also discuss importance of insulin sensitivity, specific diet and nutrition, and unique supplements such as Monoatomic Iodine and other factors that increase your chances for conception and healthy pregnancies.
Listen to the episode on Apple Podcasts or download on iTunes.
For more information please visit: DrAlexPerry.com and ThePerryCentre.com.au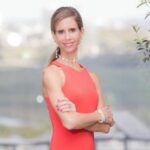 Sara Banta is a Stanford University Graduate with a Degree in Economics and Psychology, and a certified Natural Supplement Expert & Graduate of the Institute for Integrative Nutrition. Sara is the Founder of Accelerated Health Products and host of the health & wellness podcast, Accelerated Health Radio.